Posted on
By Nissy & Cole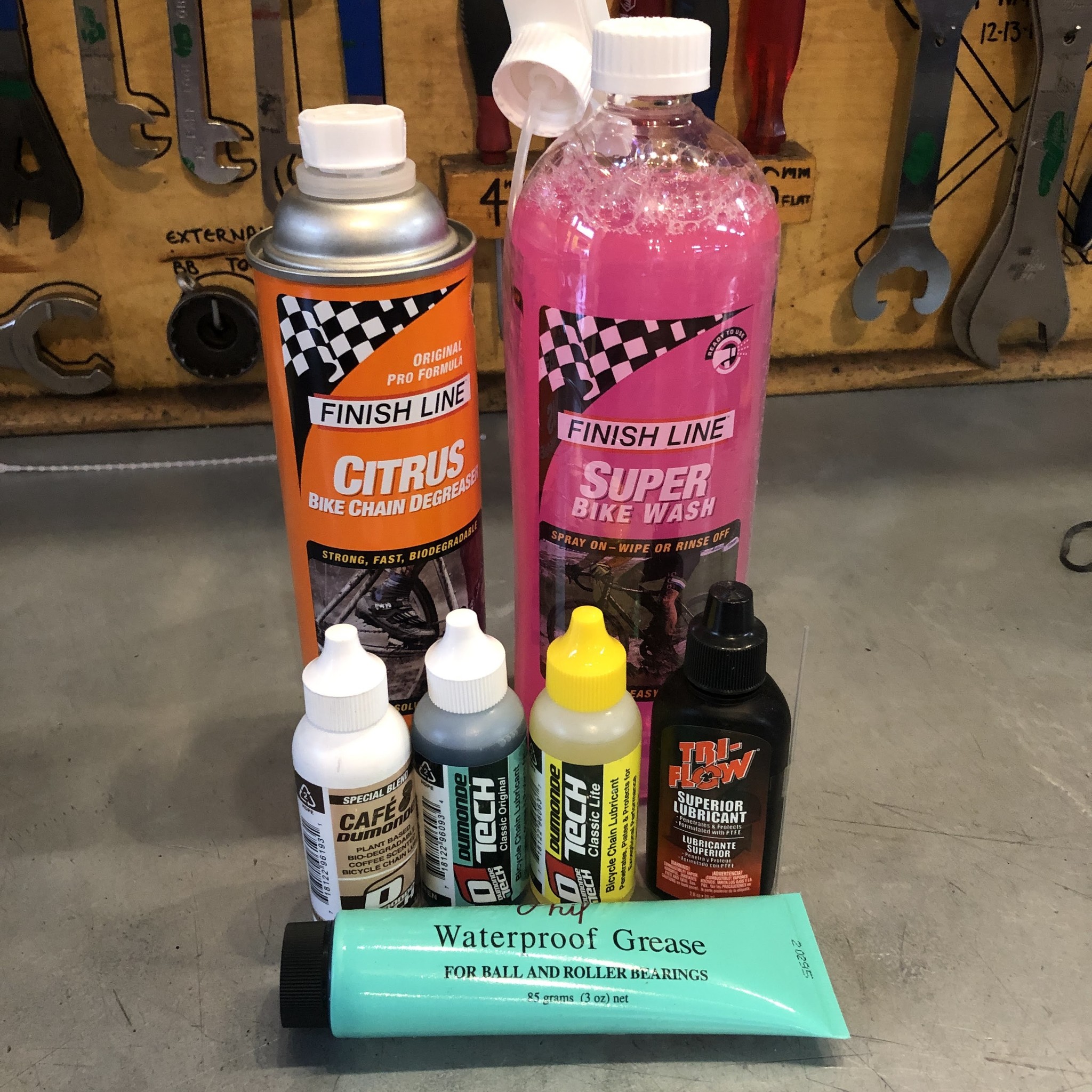 How can you keep your bike feeling great throughout the winter weather? The first step is cleaning and lubing! It's not just water you have to worry about, riding in wet weather kicks up all sorts of road grime; wearing down drivetrain parts, braking surfaces and clogging up fenders. This all leads to a bike that creaks, squeaks and feels downright sluggish to pedal. Often, the solution is just a quick wipe-down! We sell all of the supplies needed to keep your bike rolling smooth at home. Here are some of our favorite products with tips on how and where to use them.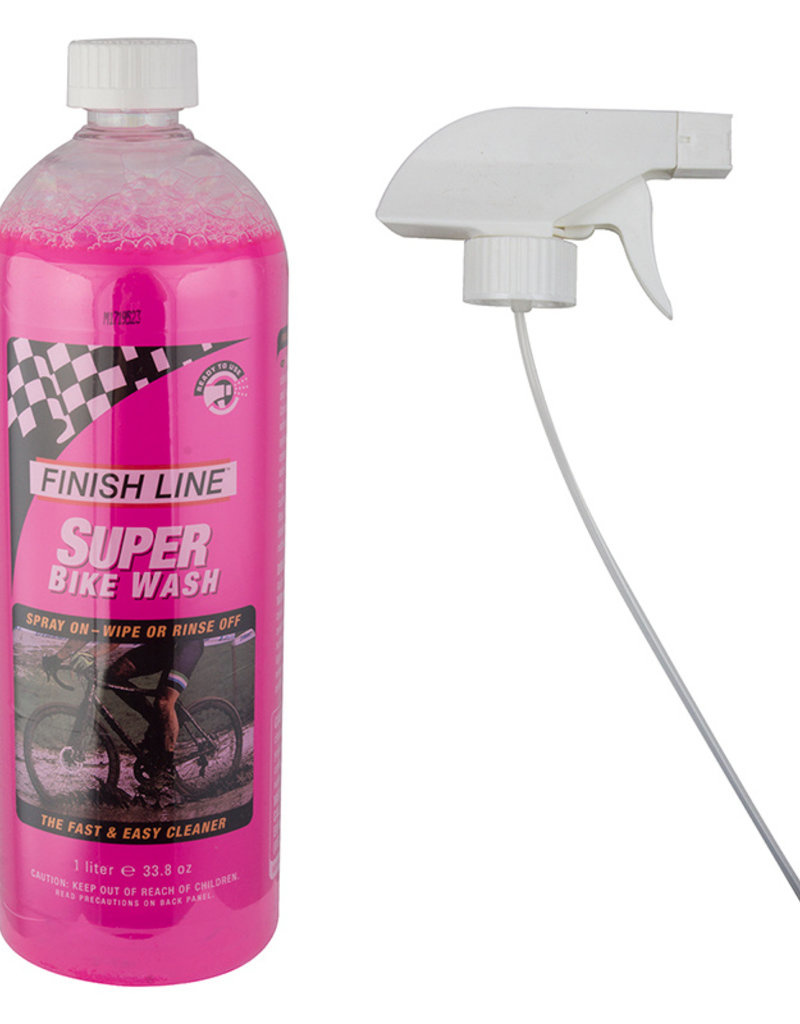 Bike Wash makes cleaning your bike easy!  At the shop, we start all of our tune-ups by spraying down the entire bike with Bike Wash and wiping off the dirt and grime from all the nooks and crannies with a rag. While it's not a degreaser, it certainly aids with wiping off caked-on grease and dirt, and it doesn't leave a slimy residue. It's safe to use on any surface but we still recommend trying to keep it away from brake pads and rotors as those parts are highly sensitive to contaminants; potentially causing brake squeal.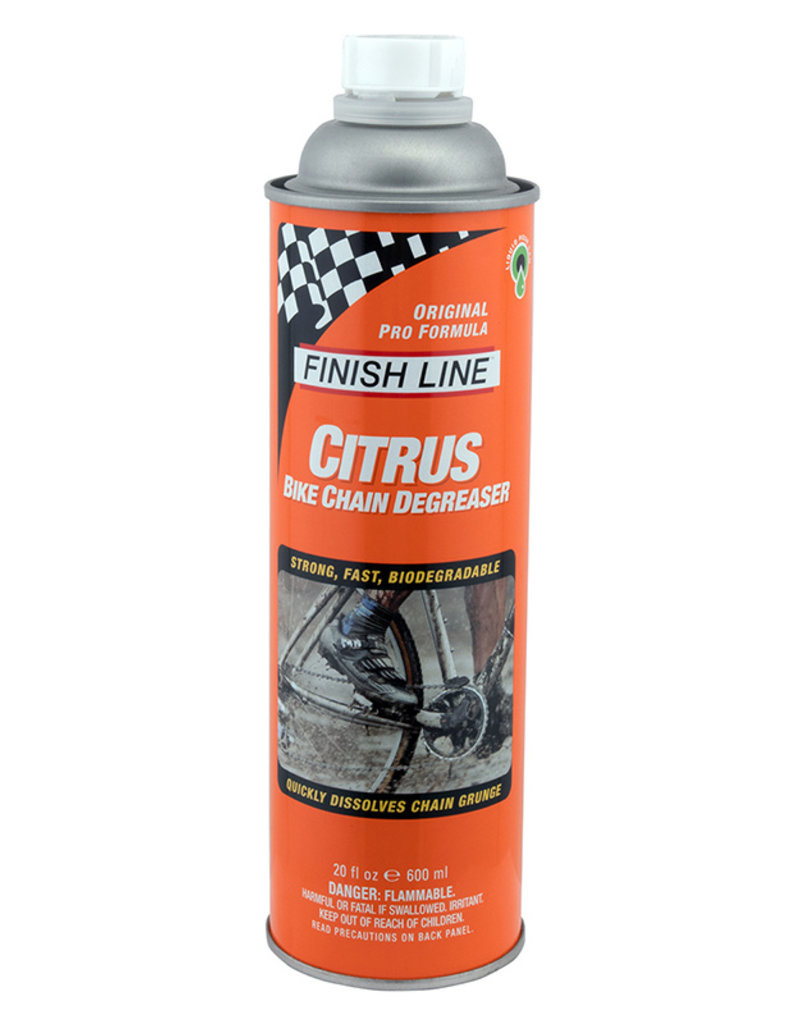 It does exactly what you think -- removes grease! A good citrus degreaser is what you'll need to thoroughly clean your chain, or remove any especially gunky grease from other surfaces on your bike. This one from Finish Line does the trick! Citrus degreasers work really well but they're really intense solvents that do leave a residue. The best way to lube a chain is to lube a clean chain, so degreaser is especially helpful to use before applying lube. Make sure to use a dry rag to wipe off all of the degreaser before re-applying lube though! Any leftover degreaser will keep working and remove the chain lube you just put on; leading to a very messy drivetrain, and attracting more dirt to stick to the chain.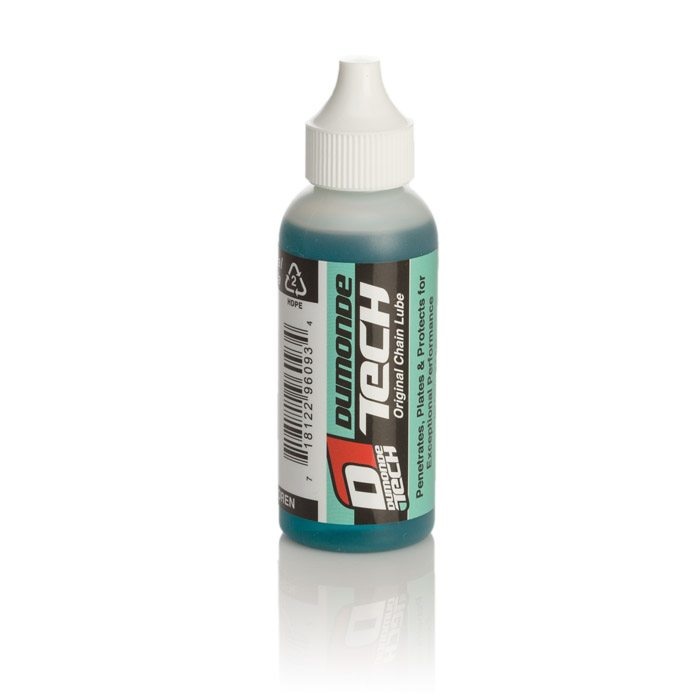 This is our go-to choice for a year-round chain lube! It's got a nice viscosity for using all the time -- thick enough to last throughout wet weather, but not too thick that it's a goopy mess. If you're going to choose one lube, this is the one. Clean your chain and re-apply lube whenever you start to hear your chain making noise. And remember, if you can see lube on your chain, it's too much! Be sure to wipe off excess lube to avoid a messy and inefficient drivetrain.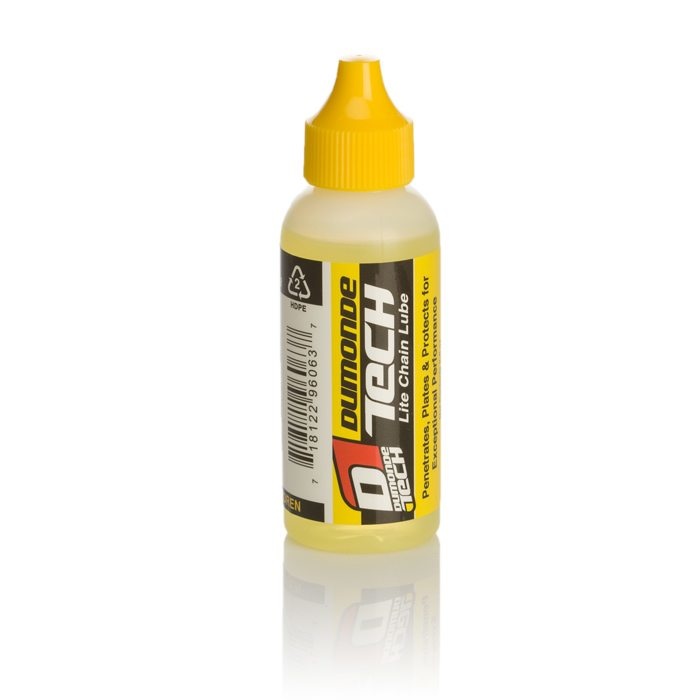 This is exactly the same product as the Dumonde Tech Classic chain lube except that it's mixed with a thinner so it's not as concentrated. Less concentration means it won't last as long in wet conditions as the Classic Lube but its benefit is a slightly cleaner/easier to clean drivetrain when the time comes. This lube is great for road bikes and others that don't often see conditions other than dry pavement.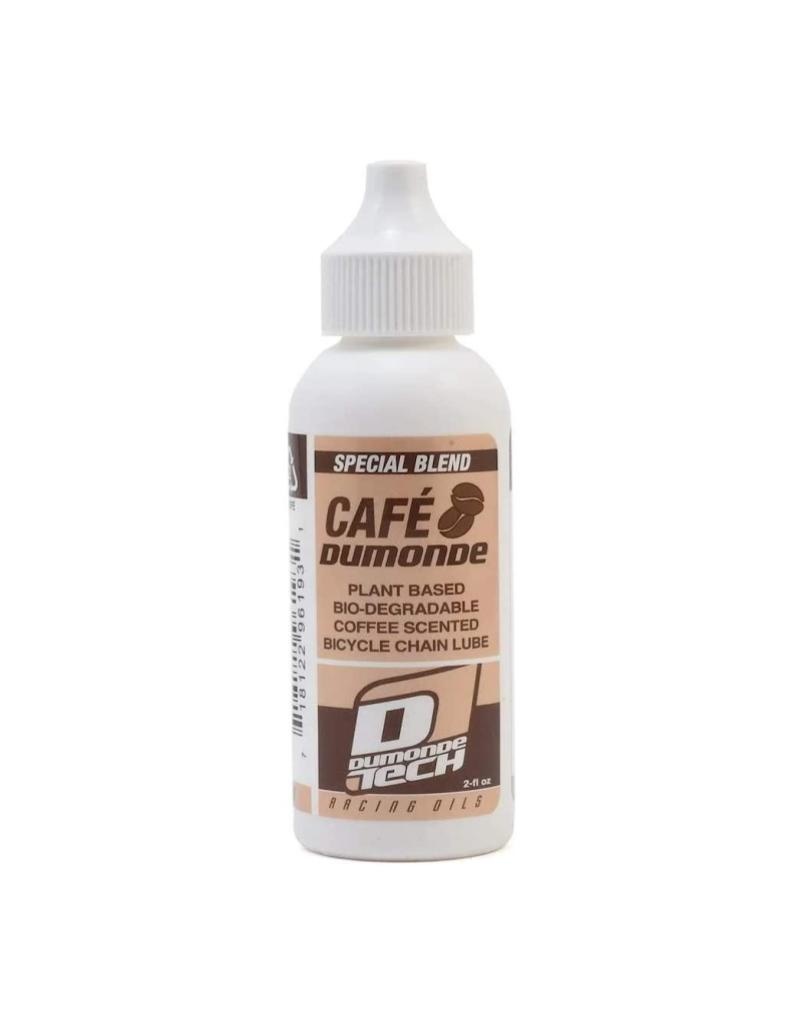 Unlike the Classic lube which is petroleum based, this lube is plant-based, 100% biodegradable and… wait for it… smells like coffee(please don't drink it!). While petroleum based lubes will last longer between applications, they are not 100% biodegradable. We don't think the environmental impacts of chain lube runoff is very significant, but hey, maybe this is the future!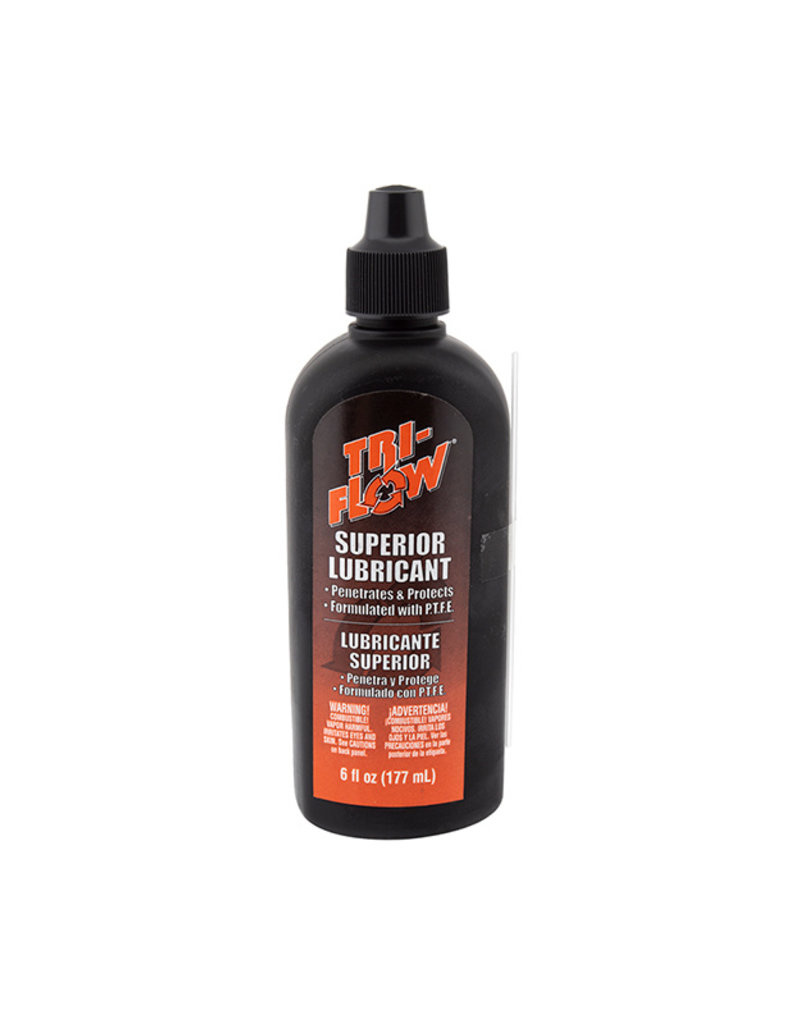 Tri(e)d and true! This is probably the most commonly found bike lubricant out there. Having a market, and use beyond the bicycle industry, you can find Tri-Flow in most American hardware stores. It's a very thin lubricant formulated with P.T.F.E.(teflon based). That means it's safe for plastic and great for hard to reach places. We recommend Tri-Flow for unsticking small parts and pivots, cables and housing that are already installed, and sticky shifters. It certainly can work as a chain lube too but it won't last as long as the Dumonde Tech products.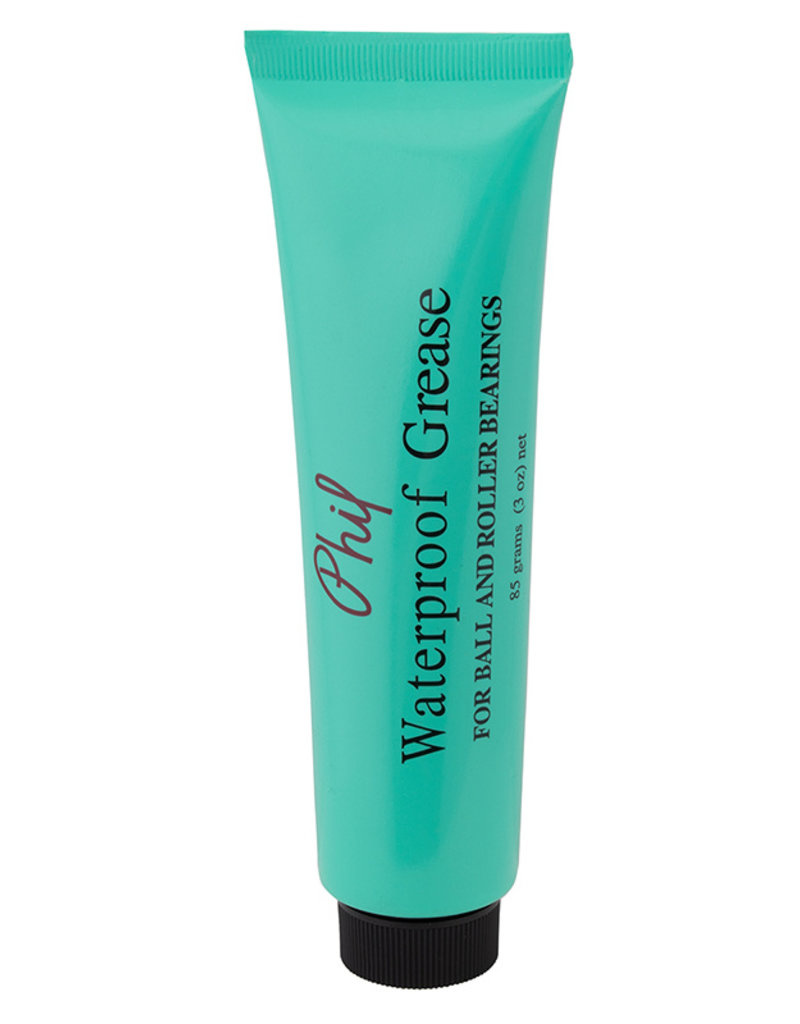 While greasing components isn't a necessary step in a simple cleaning routine, it might be the solution to your creaky bike. Here's a not so secret bike shop secret: grease is almost always the answer to mystery noises! Finding the noise and knowing where to apply the grease is the tricky part. Do your handlebars creak when you put weight on them? Try greasing your stem bolts. Does your crank creak when you put weight on it? It might be coming from your chainring bolts. Don't know where the noise is coming from? It might be your quick release skewers! The Phil wood grease does the job and it's great at staying put. It can withstand insane temperatures and doesn't wash off with water so you don't have to worry about reapplication -- sometimes for years!
Have questions about choosing the right lube? Need help tracking a mystery noise? Feel free leave a comment below or call us at 503-287-8786.